What is Pharmacist's Letter?
Pharmacist's Letter is a respected continuing education and clinical resource that has been supporting pharmacists like you since 1985. It provides the latest evidence-based healthcare findings, new drugs to market, and emerging trends that are directly applicable to dispensing medications.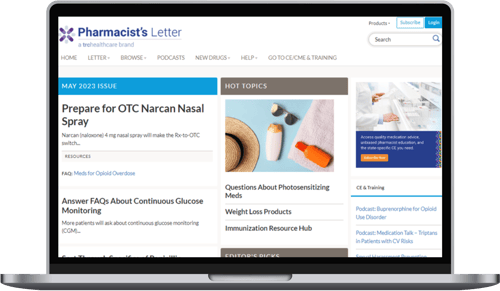 What do I get with my free trial?
You'll get unlimited access to the following features of Pharmacist's Letter:
The Latest Issue: Access practice-changing updates, guideline changes, new medications, and their appropriate use, and more practical recommendations from the most trusted source in pharmacy education. You will get the most current issue and the next two issues.
Free CE Hours: Get 3 free CE hours from the corresponding CE-in-the-Letter courses — "The Most Convenient Way to Earn CE."
Past Issues Archive: Browse previous issues, organized by month and year.
Clinical Resources: Find drug comparison charts, treatment options tables, and other resources for reference.
Resource Hubs: Explore tools related to Diabetes, Immunizations, Natural Medicines, and COVID-19.
New Medications and Generics Lists: Stay informed with the popular "Anticipated Availability of First-Time Generics" and New Drugs lists.
Medication Talk Podcasts: Listen to the latest episodes featuring TRC Healthcare and PQS Quality Corner Show.
Community Forum: Ask medication therapy-related questions and get answers from your pharmacy peers.
Convenient CE & Training Organizer: Easily keep track of your license renewal requirements, CE requirements, and your progress toward completion - including completion data from other providers - in one location. You can also click through to find a catalog of Pharmacist's Letter courses to meet specific requirements (upgrade required to complete courses).